GME

中文专属分店正式落户大林,再也不愁汇款难!
GME Daerim branch officially launched in Dearim-dong.
Send money? So easy!
万众瞩目下,GME国际汇款中文专属分店于6月5日(周日)正式落户大林洞。
一站式中文服务,营业时间早10:00-晚7:00。365日全年无休。
With broad attention, GME Daerim branch officially launched on 5 June. It provides one-stop Chinese service from 10:00 am to 7:00 pm all year round to Chinese who live and work in South Korea.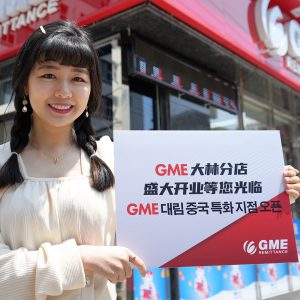 Global Money Express (GME) 始于2016年,今年已进入第6个年头,拥有150名员工。自2017年获得韩国企划财政部的首家海外小额汇款许可以来,连续五年保持行业第一。特别是在 2021 年的"韩经金融科技大奖"中获得了金融科技领域的最高奖项,给了客户信心,实现了每年 1.4 万亿韩元的总汇款量,继续推动金融科技业务的增长。
Global Money Express (GME), established in 2016, is in its 6th year with 150 employees now. Since obtaining the first overseas small-amount remittance license from the Ministry of Planning and Finance of South Korea in 2017, GME has maintained the industry's No. 1 position for five consecutive years. Particularly, GME won Hankyung Fintech Grand Prize in 2021 in fintech filed, gave customers confidence, achieved a total remittance volume of 1.4 trillion won per year, and will continue to drive the growth of fintech business. 
目前, Global Money Express (GME) 可以让您通过手机APP随时向全球200多个国家汇款,无需访问银行,支持多种支付方式,方便您使用。
Currently, it is possible for users to send money to more than 200 countries around the world at any time through GME mobile application, without having to visit the bank, and supports a variety of payment methods for user's convenience.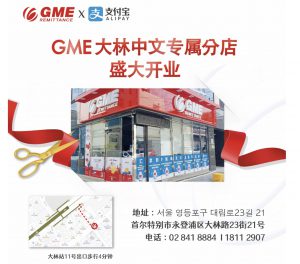 针对中国用户目前支持支付宝收款和银行卡收款,信息无误的情况下,可以极速到账,平均每笔转账费用仅为5000韩元。大林店的盛大开业,为有小额汇款需求的在韩中国人创造了良好的开端,轻松解决汇款的问题。
For Chinese users, Alipay and bank card payment methods are supported. If users' information is correct, they can get Chinese Yuan promptly even within a few seconds, and the average service charge fee is only 5000 won. The grand opening of Daerim branch has created a good start for Chinese people in Korea who need small remittances and can easily solve the problem of remittances.