One of the biggest football tournaments this year is the Hanaro Football CUP 2022, held in South Korea and hosted by GME Remittance. Sixteen countries join this tournament. Eight Games of the 1st round were already started last August 21 and 28, 2022,  @ Sunjang Football Ground. China, Indonesia, Pakistan, Nepal, Sri Lanka, Cambodia, Mongolia, CIS Nation, Myanmar, Thailand, Western Countries, Bangladesh, African Nations, Vietnam, India, and the Philippines were among the participants.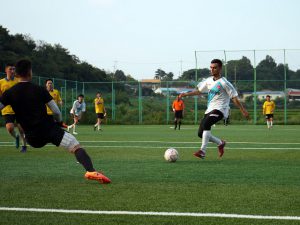 (Click here for Score Results last August 21, 2022)
The quarter, Semi, and Finals will be on September 12, 2022, @ Hyochang Stadium. For more details, please check www.gmeremit.com/football2022.
Scores for 1st Round
Country 

Score

Vs.

Country 

Score

China

2

VS

Indonesia

5

Goal by:

(1) No. 8 Wang

(1) No. 4 Han

Goal by:

(3) No. 11 Riyan

(1) No. 9 Saiful

(1) No. Ismoyo

Sri Lanka

2

VS

Cambodia

1

Goal by:

(1) No. 10 Pathum

(1) No. 21 Fazlan

Goal by:

(1) No. 10 Thenh 

Nepal

11

VS

Pakistan

0

Goal by:

(5) No. 9 Nishan

(4) No. 7 Raj

(2) No. 8 Abinash

Mongolia

4

VS

CIS Countries

1

Goal by:

(3) No. 9 Naigaldorj

(1) No.7 Amara

Goal by:

(1) No. 14 Abdurakhmon

Thailand

6

VS

Myanmar

1

Goal by:

(4) No. 7 Wicha

(1) No. 10 Phukichratipat

(1) No.14 Theeraphol

Goal by:

(1) No. 8 Aung Phyo

Western

8

VS

Bangladesh

0

Goal by:

(3) No. 15  Claesson

(2) No. 19 Ashoto

(1) No. 8 Jame

(1) No. 7 Henry

(1) No. 9 Van

Vietnam 

3

VS

Africa

0

Goal by:

(2) No. 26 Nguyễn Minh Đoàn

(1) No. 8 Nguyen Huu Tien

India

12

VS

Philippines

0

Goal by:

(3) No. 11 Ujjal

(3) No.14 Shavo

(1) No. 2 Promal

(2) No. 10 Bappy

(1) No. 6 Sanny

(1) No. 1 Songle

(1) No.13 Sukel